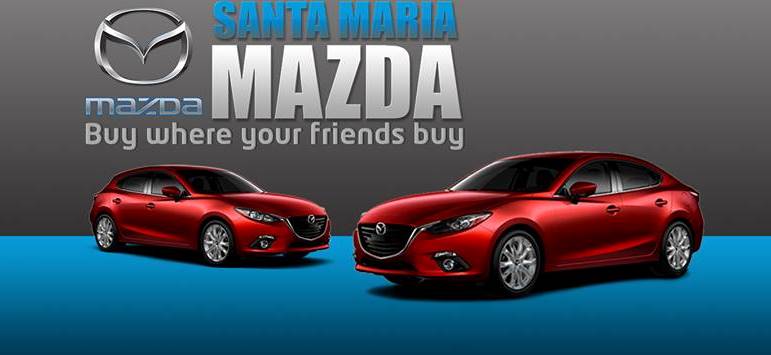 What else can I say but "Awesome!" Love my Mazda3 from Santa Maria Mazda!
Linda Grosso
Nipomo, Ca.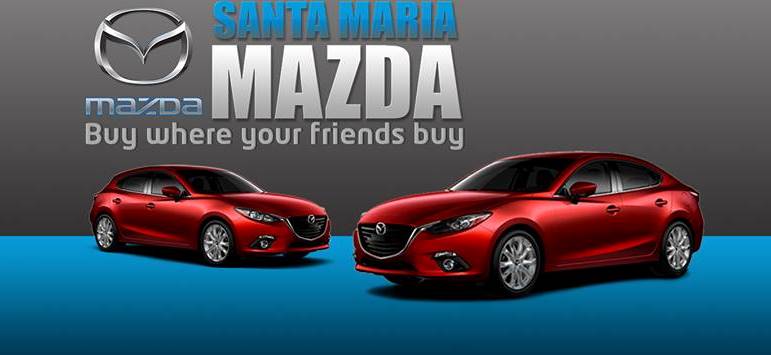 CUSTOMER REVIEW - SALES
Just purchased a new 2017 Mazda3 from Timo Rabara at Santa Maria Mazda. Timo was pleasant to deal with, very personable. I felt like he was truly trying to help me, not pressure me into something I didn't want. Also love that service department is open on Saturdays. Very satisfying experience, these guys rock!
R. Pinasco
Santa Maria, Ca.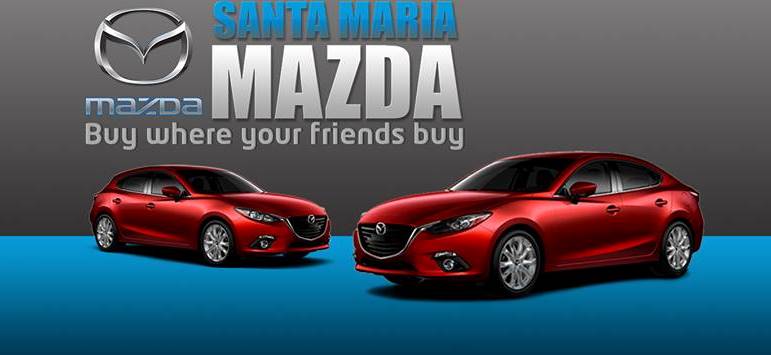 YELP REVIEW - SERVICE
We took our Mazda in to get its recalls taken care of. We spoke to Alex first and set up an appointment. He was very nice and got us in the next week. When we got there everyone we encountered was friendly. We felt comfortable. They did am amazing job! Very satisfied! We also got an oil change and it was cheaper then where we usually go! Talk to Alex! He's awesome!
April R.
Grover Beach, Ca.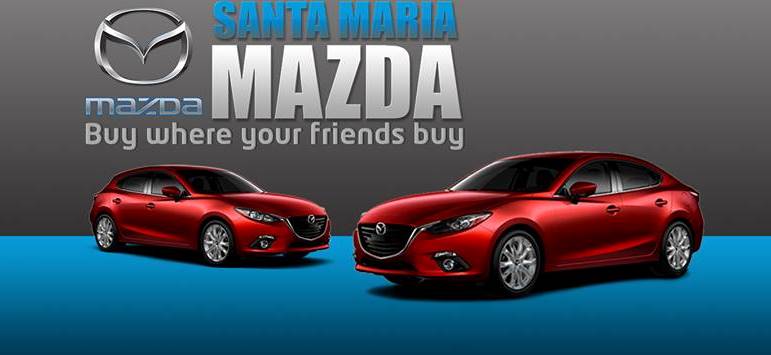 Our family has purchased 7 cars from Santa Maria Mazda over the past few years. Fernando Padilla has always gotten us the best deals. We've always left feeling great about our purchases. I would recommend Santa Maria Mazda to anyone looking for a great deal and great service.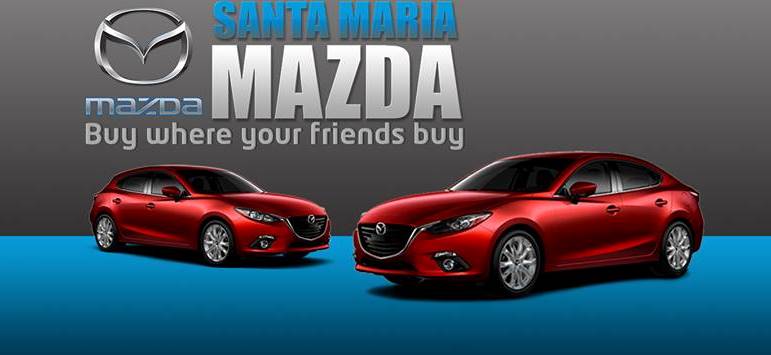 Wonderful experience buying a car at Santa Maria Mazda. I love my new CX-5! Jared Perry was extremely courteous, helpful and professional. I appreciated how quickly he called me after my initial inquiry online and I appreciated how swiftly he located the exact car I was looking to buy. I definitely recommend them to anyone looking to buy a new car.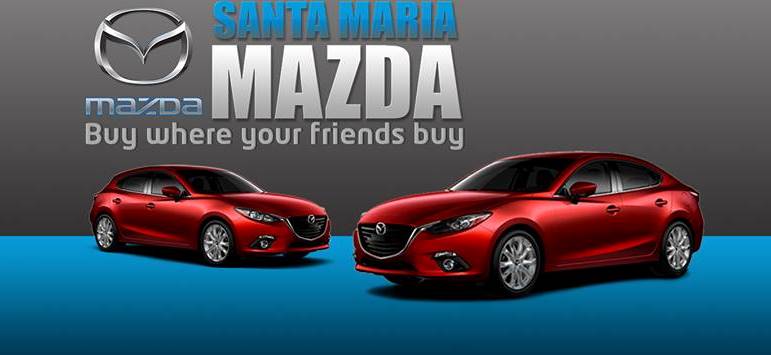 YELP REVIEW - SERVICE
Omar helped us out, really great customer service from him, very professional as well
Wife and I came because we hit a bump really hard smelled gas so we took it here to get it checked out and everything was fine no problems at all and we were not charged either, which they gained 2 customers for life
Since we were here we also changed out the key battery, $5 in and out great service, fast work, no charge for checking it out.
Oscar D. 
Santa Maria, Ca.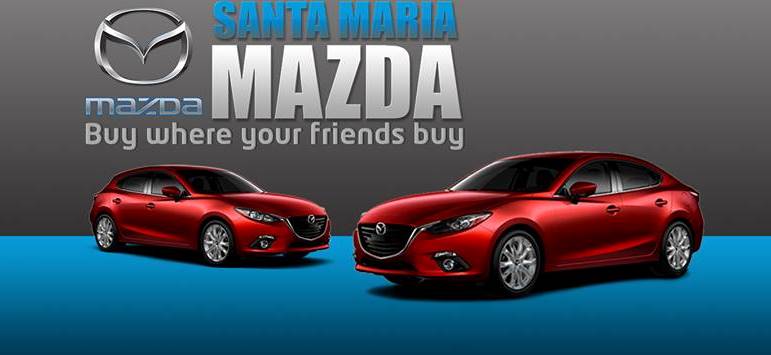 Our sales rep., Jared Perry, was fully trained on the vehicle we wanted and was very capable of describing all the new safety features of the Mazda CX-5. He was very personable and professional. We've never had such a successful, stress-less buying experience.
Willard Van Dyke
Nipomo, Ca.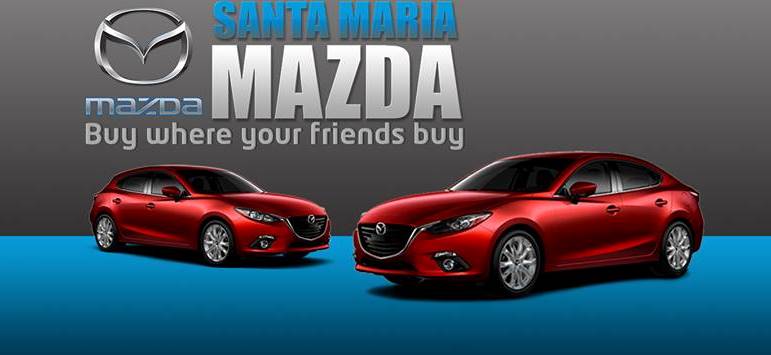 We just bought our new 2017 Mazda CX-5 from Santa Maria Mazda and after trying to work with three other dealerships to get the car we wanted, the team at Santa Maria Mazda came through with 1) the exact car we wanted 2) amazing financing, and 3) the terms we wanted. From the moment we walked on to their lot, Gerald Pimentel treated us like friends. He is a knowledgeable young man who knows the value of relationships in business. We would highly recommend him. Ramon was instrumental in bri
nging the deal to fruition. We felt he went above and beyond to bring it all together all while being completely transparent with what was feasible. In the end, SM Mazda found our car at another dealership, brought it here, arranged the perfect financing, and delivered a great product with style. We love our car but the unexpected bonus was meeting and working with Gerald and Ramon. Well done, fellas. Thanks for everything. PS...my car is so bad-ass beautiful!!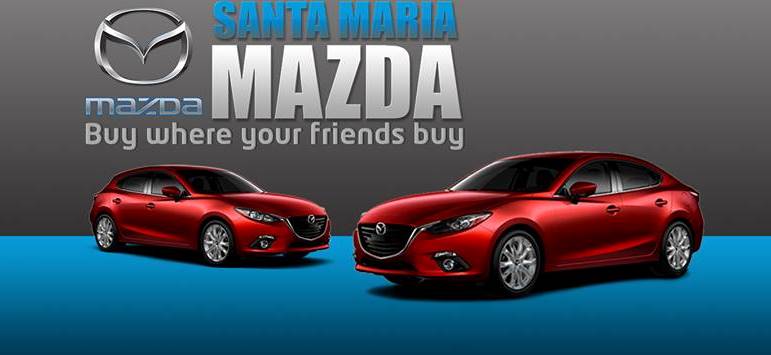 Our "team" of Ryan Renfrow and Ramon Diaz made this THE most painless (even enjoyable) car-buying experience we have ever had in our over 50 years of buying cars. From our initial phone conversation then the nitty-gritty details of the deal, also by phone, with Ryan, everything went smoothly, professionally and as promised. We knew exactly the car we wanted, a Mazda3 Hatchback Grand Touring, so we didn't even go to the dealership! We struck the deal on the phone with Ryan who is totally responsive, polite and no BS. They didn't charge us to send their guy to get the car from a dealer a couple hundred miles away! So, today we actually went to the dealership to pick up the car and were met first by Ryan, who came down from his office to greet us. Totally friendly and welcoming and confidence inspiring.
Everyone is very genuine. The staff of this dealership are completely in service to their clientele and want to do everything and anything possible to make the purchase a pleasant experience, one where you don't feel pressured or ripped off. Even the financial guy Ramon is up front, no sales tactics or pressure: he tells it like it is and you decide if you want the warranty options. The out-the-door price that was first negotiated on the phone with Ryan was exactly the price on the sale documents. What a refreshing experience. People you can trust!
Sheila Roen
Arroyo Grande, Ca.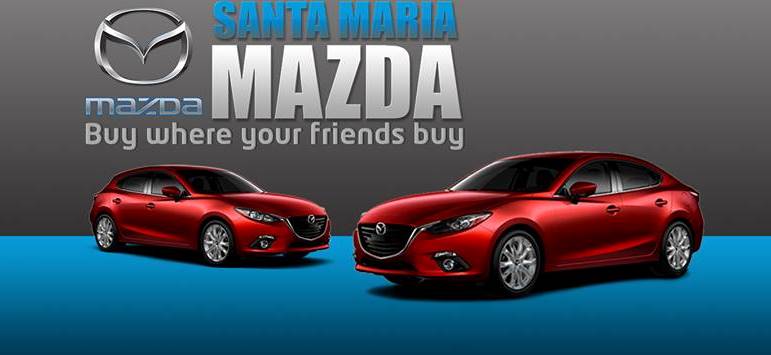 Still in shock...purchased a fully loaded 2016 Mazda CX-5 early this afternoon and spent the rest of the day showing it off and playing with all the gadgets. TIMO .. You are the best. No other words except Mazda in Santa Maria rocks. We are so happy with the entire Mazda team. Great price, great car, great personalities.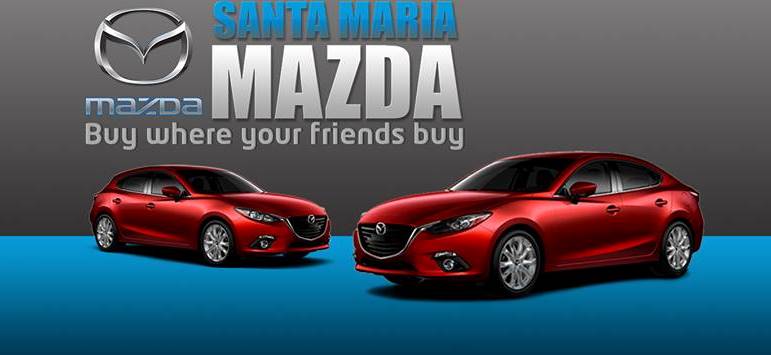 So..... first off Jared PERRY aka "Jerry Perry" is the MAN!!! I was just looking online and he called me back very quickly!! I gave him my info and got the ball rolling before I even stepped foot on lot!! He and the staff were able to get me in a vehicle the same day! Within 2 hours I was driving off the lot in a 2017 mazda3 sport!! The car is amazing and we'll Jared killed it!! I recommend them to anybody!! They will work with you and make things HAPPEN!!!! thanks again jared!!! You DA MAN!!!!